On Martin Luther King Jr. weekend, more than 500 birders will visit Morro Bay, California (a Globally Important Bird Area), to see, photograph, and learn about birds. Morro Bay offers panoramic views of the Pacific Ocean, a federally protected estuary, plenty of beaches, parks and museums, and best of all, thousands of birds. Approximately 200 species are sighted each festival.
The 2022 Festival features 160 events over 5 days, including master classes, pelagic cruises, birding by boat and kayak, bus and car trips throughout San Luis Obispo County, day hikes, and many informative workshops. Birders of all levels are welcome. Nature Track events (highlighted in turquoise on the Festival schedule) emphasize natural history and wildlife interactions, with less emphasis on bird identification.
Young adults and teens are encouraged to participate. Registration fee is waived for attendees aged 17 and under.
A complete description of all events can be found under the Festival Schedule tab.  Online registration is now open!
Hear what John Muir Laws has to say about the Morro Bay Winter Bird Festival and Morro Bay!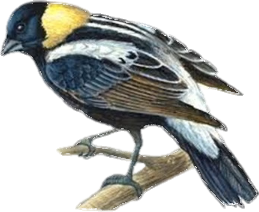 BOBOLINK is NEW: Our festival has a reputation for being organized. To reduce COVID crowding, we developed Bobolink to gather participants and leaders AT the event site without the crowds at a central sign-in location. This is one of the methods we are using this year. Try it out! Check out the VIDEO and then register with Bobolink. Use it from your phone to keep track of your trips and participants.
Follow us on Facebook and other social media at https://www.facebook.com/MBWBF. We'll keep you informed of updates, changes and new events as they occur.
Thank you for your continued support of the Morro Bay Winter Bird Festival. We look forward to seeing you in 2022!
Morro Bay Winter Bird Festival Board
Storefront Features 2 Designs (light & dark text), 6 Styles & Choice of Colors!
(Short-sleeved, Long-sleeved, V-neck, Baseball T's, Crewneck Sweatshirts and Pullover Hoodies) Examples below.
All designs were based on John Muir Laws Artwork - the new MBWBF logo! Most styles have artwork on the front. A smaller selection have the design on the back.
Please Note: If you plan on volunteering and/or leading a trip/presentation for the festival, the MBWBF will provide a t-shirt for you at no cost (shirt color/design determined by the festival t-shirt committee).  You are welcome to order other items for yourself, family and friends. Proceeds fund the current and future festivals. 

 
Important Update
COVID-19 
Our goal is to ensure that all participants are safe and protected during the festival. Therefore, all attendees, leaders and volunteers must provide completed proof of vaccination, to have been completed at least two weeks prior to the Festival. Booster doses will not be required. In the meantime, we advise you to take a photo of your immunization card with your cell phone, or have the ability to provide a digital immunization record. We will not be accepting lab tests or notes from medical providers. County/State COVID-19 policies will be followed during the festival. Masks may be required for indoor events.
FESTIVAL BAZAAR
Keeping everyone safe means limiting all indoor activities to vaccinated attendees only. Therefore, we will forego our Public Vendor Bazaar in 2022. We look forward to inviting them back in 2023! Please support our Vendors online.
Morro Bay Winter Bird Festival Board
Great talk with super positive feedback from the audience attending Jonathan's talk about his research with Blakiston's Fish Owl in Russia. In case you missed it you are in luck - we taped the zoom presentation!
Jonathan Slaght presents:
https://vimeo.com/manage/videos/644410849
Morro Bay Winter Bird Festival Special Events
25th Anniversary Celebration
Friday, January 14th, 5:00 to 7:00 at the Morro Bay Community Center.
Come celebrate 25 years of the joy of birding in Morro Bay.  Enjoy wine, appetizers, and cake with your fellow birders as we remember festivals of the past.
We are excited to showcase opticals from Out of This World, Wildlife Ambassadors from Pacific Wildlife Care and Allis Markham, award-winning taxidermist/Nassologist.
Keynote:
John Muir Laws
Saturday, January 15, 2022, 7:00-8:30pm
Cuesta Performing Arts Center
The Seven Habits of Highly Effective Birders
How can you see more and relate to birding in a way that gets you out of the house, into the field, and loving every minute of it. It is not about the size of your life list but the mindset that you bring to your adventures outdoors. John Muir Laws will explore seven practices and habits of mind that enhance your ability to notice more around you, connect with community, help protect birds, and have fun all the while.
Keynote:
Raymond VanBuskirk
Sunday, January 16, 2022, 7:00-8:30pm
Cuesta Performing Arts Center
Birding: Medicine for the Soul
The natural world brings depth and meaning to our lives; it offers deep personal connection to our natural heritage and healthy escape from the hustle and bustle of the modern world. Arguably one of the most enjoyable aspects of birding is sharing the diversity of the birding experience with others....Join me as I share my experience of growing up as a young birder, and what birding means to me. I will recount tragedy, grief, and the healing powers of nature, and why this is reason enough to do everything we can to safeguard the natural world for generations to come.
Please enjoy the following recorded keynote speaker presentations from previous bird festivals: (Hint for optimum viewing: open this webpage in your cell phones browser and "cast" to a nearby smart tv. Turn up the volume on your tv)