Every Martin Luther King weekend over 500 California bird festival lovers visit Morro Bay, California, a Globally Important Bird Area, to see, photograph, and learn more about birds.  Morro Bay is located halfway between Los Angeles and San Francisco on the Pacific Flyway. The area offers pristine beaches, beautiful state parks, an excellent natural history museum, panoramic views of the Pacific Ocean and, best of all, thousands of birds.  Over 200 species are usually sighted during the Festival weekend.
Registration for the 2020 Morro Bay Winter Bird Festival opened on November 2, 2019.  Learn more about registration do's and don'ts on the Registration Options page.
Early check-in is available 3-7 PM on Thursday, January 16, 2020, at the Inn at Morro Bay, 60 State Park Road, Morro Bay. The festival registrar will be available to assist registrants with changes to their schedule. New registrations are available Friday-Monday at festival headquarters (Morro Bay Community Center, 1001 Kennedy Way, Morro Bay). This year, the registration desk will be located in the hospitality room.
Early check-ins are welcome to join local birders Carol Comeau and Penny Principe for happy hour at the Inn at Morro Bay bar on Thursday anytime between 3 PM and dusk. Grab a drink from the bar, bring your binos/scope and come out on the deck located just outside the bar.  In case of inclement weather Carol and Penny will be inside the bar.
Festival T-shirt
In consideration of rising shirt costs and feedback from our registrants, the T-shirt is offered as a separate item for $15 purchase during online registration. T-shirts will also be for sale in limited quantities at the Festival headquarters. This year, the artwork of René Reyes portrays a crouching green heron on a navy blue T-shirt.
Morro Bay Winter Bird Festival Special Events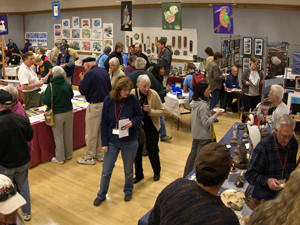 Opening Reception
Friday, January 17, 2020 5:00-6:30pm
2020 Reception
For Bird Festival Registrants
Enjoy wine and cheese and meet fellow birders in the Bird Festival Bazaar area. Browse through the vendor booths featuring binoculars and scopes, books and CDs, garden art, watercolors and nature photography, wood carvings, jewelry, clothing and more!
Keynote: Stephen Shunk
Saturday, January 18, 2020, 7:00-8:30pm
Cuesta Performing Arts Center
How Woodpeckers Can Save The World!
Woodpeckers represent one of the most specialized bird families in the world, and these woodland carpenters perform critical ecological services in North America's forested habitats; nowhere else on Earth are woodpeckers such important contributors to forest ecology. Join author, naturalist, field biologist, and woodpecker fanatic, Steve Shunk, for an exciting journey into the lives and times of California's woodpeckers. Steve will share secrets of woodpecker anatomy and stories of their natural histories as he interprets the keystone roles that woodpeckers play across the Golden State.
Keynote: Krisztina Scheeff
Sunday, January 19, 2020, 7:00-8:30pm
Cuesta Performing Arts Center
Dancing With The Grebes
Called the 'Grebe Whisperer' by many of her students and fellow professional photographers, wildlife and nature photographer Krisztina Scheeff has spent years studying and photographing grebes on Lake Hodges in San Diego County. The unique mating behavior of grebes, rushing, is one of the most photographed of all animal behaviors. Krisztina will take you on a photographic journey into the world of grebes and provide details on why and how they 'walk on water' to find a mate. Krisztina will also share stunning photographs of some of her other wildlife favorites.