Morro Bay Winter Bird Festival Special Events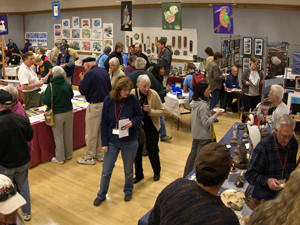 Opening Reception
Friday, January 17, 2020 5:00-6:30pm
2020 Reception
For Bird Festival Registrants
Enjoy wine and cheese and meet fellow birders in the Bird Festival Bazaar area. Browse through the vendor booths featuring binoculars and scopes, books and CDs, garden art, watercolors and nature photography, wood carvings, jewelry, clothing and more!
Keynote: Stephen Shunk
Saturday, January 18, 2020, 7:00-8:30pm
How Woodpeckers Can Save the World!
Woodpeckers represent one of the most specialized bird families in the world, and these woodland carpenters perform critical ecological services in North America's forested habitats; nowhere else on Earth are woodpeckers such important contributors to forest ecology. Join author, naturalist, field biologist, and woodpecker fanatic, Steve Shunk, for an exciting journey into the lives and times of California's woodpeckers. Steve will share secrets of woodpecker anatomy and stories of their natural histories as he interprets the keystone roles that woodpeckers play across the Golden State.
Keynote: Krisztina Scheeff
Sunday, January 19, 2020, 7:00-8:30pm
Dancing with the Grebes and their friends
Wildlife & Nature Photographer Krisztina spent years studying and photographing the Grebes on Lake Hodges. Their unique matting behavior called "rushing" is one of the most photographed animal behaviors. Called the "Grebe Whisperer" by many of her clients and fellow professional photographers, Krisztina will take you on a photographic journey into the world of Grebes and their friends and give you all the details on why and how these birds "walk on water" to find a mate. You will also get to experience some of her other favorites like the Atlantic Puffins.