New this year: Saturday Art, Wine & Nibbles Reception
Saturday, January 19, 5:30-6:30pm – Community Center – Another opportunity to browse the exhibits with some wine and light snacks before heading over to the South Bay Community Center in Los Osos for James Currie's keynote presentation. Sponsored by Out of This World Discount, Optics Swarovski, Optik North America Ltd. & Opticron LLC.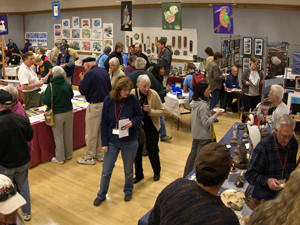 Opening Reception
Friday, January 18, 2019 5:00-6:30pm
2019 Reception
For Bird Festival Registrants
Enjoy wine and cheese and meet fellow birders in the Bird Festival Bazaar area. Browse through the vendor booths featuring binoculars and scopes, books and CDs, garden art, watercolors and nature photography, wood carvings, jewelry, clothing and more!
Keynote: James Currie
Saturday, January 19, 2019, 7:00-8:30pm
Birding the globe
James takes you on a fantastic video journey around the world to see some of the planet's most sought-after and bizarre bird species. From North and South America to Australia and Africa the diversity of our birdlife is astounding. See strange breeding behaviors, first-time footage of rare species and some humorous insights into the exciting world of wildlife videography.
Keynote: Alvaro Jaramillo
Sunday, January 20, 2019, 7:00-8:30pm
The World's Most Amazing Birds – Seabirds, and why is California such a hotspot for them
This talk might as well be about aliens! A creature so foreign we have a hard time understanding. Imagine never touching land for 5 years, as some albatross do. Or think about flying thousands of feet up, crossing the oceans as you "surf" the pressure wave of a tropical storm as frigatebirds can do. How about to be able to identify your mate by the way they smell as many seabirds do?