New this year: Saturday Art, Wine & Nibbles Reception
Saturday, January 19, 5:30-6:30pm – Community Center – Another opportunity to browse the exhibits with some wine and light snacks before heading over to the South Bay Community Center in Los Osos for James Currie's keynote presentation. Sponsored by Out of This World Discount, Optics Swarovski, Optik North America Ltd. & Opticron LLC.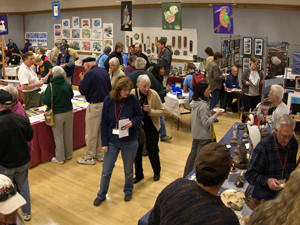 Opening Reception
Friday, January 17, 2020 5:00-6:30pm
2020 Reception
For Bird Festival Registrants
Enjoy wine and cheese and meet fellow birders in the Bird Festival Bazaar area. Browse through the vendor booths featuring binoculars and scopes, books and CDs, garden art, watercolors and nature photography, wood carvings, jewelry, clothing and more!
Keynote: TBD
Saturday, January 18, 2020, 7:00-8:30pm
Keynote: TBD
Sunday, January 19, 2020, 7:00-8:30pm